Tips from a Wedding Officiant… Inner Peace Ministries
Vendor Spotlight:
I had the honor of virtually interviewing one of my favorite wedding officiants. I have worked with Theresa from the beginning of my career in weddings and every time I see her at a wedding, I know we are all in for a special ceremony. Theresa is well spoken, has a great presence about her and incorporates sometimes a bit of humor in the ceremony which makes it feel real and relatable.
How did you get started in this industry?
Inner Peace Ministries was founded in 2006 when my children's friends were asking me to marry them.  In order to comply with the laws of the Commonwealth of Pennsylvania, it was essential to know whether I was able to lawfully do so in the Commonwealth.  As a Commonwealth and not a State, Pennsylvania has different laws as far as who is able to marry you in PA and internet-ordinations (rather than ordination in a physical church with a congregation) are a big "no-no!"  So, before you ask a friend or family member to marry you, please refer to the laws on most County websites with regard to this issue.  You want to be absolutely certain at the end of the day, that your marriage is valid and you are legally married!
Since 2006/2007, I have officiated approximately 1,500 marriages, as well as a number of Baby Blessing and Renewal of Vows ceremonies.  After graduating from Penn State in 1994, I pursued several other degrees in holistic ministries and was exploring different options to use all my degrees in a meaningful way.  At a local metaphysical gathering, I ran into Sharon Marquart, who also was an interfaith officiant, and she had been officiating weddings for a number of years and had an overflow of weddings that she was unable to accept.  We began a collaboration between us to refer to each other and from there, I was off and running.  Beginning years were challenging, but having had so many other jobs in administration, legal field, customer service, sales, marketing and event planning, this was the perfect fit and I was able to use ALL the skills I had acquired over my lifetime—what a fantastic "job" it is to join couples in marriage or bless their babies or renew their vows of love!
Tell us some of your favorite venues you love to work at in Pennsylvania and what makes them stand out?
 They are my "favorites" because they are beautiful venues inside and out and have wonderful staff and coordinators for their clients, and my experience as an officiant has always been near PERFECT!  They are, and not in any particular order of preference:
Star Barn – Ironstone Ranch, Elizabethtown
Historic Acres of Hershey, Elizabethtown
Hershey Hotel and Gardens, Hershey
Omni Bedford Springs Resort, Bedford
Every venue mentioned above provides a five-star experience for a bride and groom and their families.  Each of these venues has multiple ceremony location sites (indoors and outdoors), beautiful and scenic outdoor locations, a wedding staff that is personable, helpful, and experienced, so you have someone to guide you through the wedding process. I have worked with every one of these venues many times, and complete confidence in recommending them.  There are also many other wonderful venues and sites in Central PA, but too many to name!
Let's talk trends in weddings, What is something you are loving for wedding ceremonies?
The trend that I am enjoying the most with couples in the past few years is that they have become ambitious in writing their own vows!  They are sweet, funny, heartwarming and give a very personal touch to the wedding ceremony.  A piece of advice regarding writing you own vows—please don't wait until a week before to get started!  Give your vows the time and attention they deserve. Also incorporating family and friends into the ceremony with readings, prayers or blessings makes the ceremony more diverse, personal and interesting and includes the couples loved ones in their most important day!
What advice would you give a couple when planning their ceremony?
Leaving out a Special Wedding Tradition—most especially a Unity Candle outdoors—in favor of personal vows has been a most welcome trend.  If you opt for a Unity Candle, please only consider as an indoor option.  Too many really funny and sad stories about Unity Candles outdoors! (will elaborate in another blog!)  Also, "mega" size bridal parties are challenging for everyone, especially when they incorporate a number of very small children and have differing opinions that they feel are necessary to convey to the couple—can create a lot of drama!
Having officiated so many weddings, what makes one stand out to you?
What makes a ceremony memorable for me is truly the couple themselves.  I have met and officiated for the most amazing, wonderful, loving, happy and the "best-of-the-best" brides, grooms and their families (and other wedding vendors too!) over the past 14 years and have so many happy, funny and beautiful memories– too many to mention.  I have been blessed over the years to see some of these couples again at the weddings of their siblings, parents, babies and friends, where they have been so very kind to refer me to their loved ones.  To see a couple after so many years still smiling and happy and with babies and children is a great joy to me, and receive a number of Christmas cards and photos ever year from these couples, as well as beautiful and heart-warming "thank you" notes.  Many are my "friends" on Facebook.
What do you love most about being a wedding officiant?
Overall, I can say without reservation, that this is the BEST "JOB" IN THE WORLD!  Where else can you be with so many people who are happy, joyful, loving and fun and be honored to be a part of one of the most important events in their lives and stand in the light of their love!  Challenges sometimes, but worth every moment.  My sincere love and thanks to each and every one of you all who I have had the honor and pleasure to work with—I hold the memory of you and your ceremony in my heart always!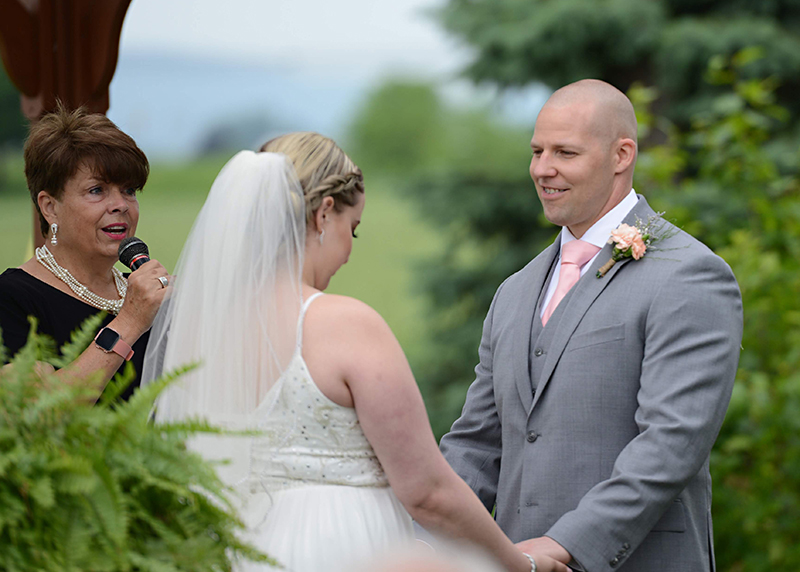 Reverend Theresa Gilberti
Inner Peace Ministries
www.innerpeaceministries.net
05.06.20